Why Facing Giants?
The challenges facing todays youth are more complex then ever. Today's youth have been very commonly been found to lack the ability to effectively deal with life's issues and are often being hindered by a strong sense of entitlement.
How do we help them? We believe it requires a shift in our culture and actions. In order to successfully accomplish this shift, a community-wide effort is required. This community effort needs to include our local government, businesses, religious organizations, and the school system.
Facing Giants Inc. is a 501(c)(3) / tax exempt non-profit organization dedicated to community outreach and youth mentorship and is based out of Harnett County, North Carolina. The organization consists of community members who have a vested interest in shifting the culture in order to bring about change and empower the next generation.
Community Service - 12 years
Leadership - 10 years
Insights & Strategy - 8 years
Childhood Development- 7 years
Our Mission
The mission of Facing Giants is two-fold:
To empower, mentor and motivate community youth by providing them with the resources required to face the challenges ahead of them.
To promote a stronger sense of community, by serving as a bridge for the various community influences to come together as a unified front in shifting our culture: to build a stronger economy, educate our community on the most prominent issues, and promote diversity.
Emma Martin
Director of Operations
Our Values
Community Influences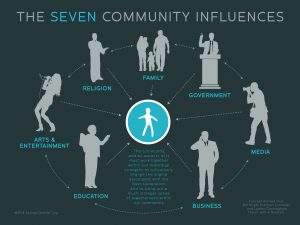 Family
Families lay down the foundation for a child's overall values and beliefs. They are an example that may determine how individuals will live out their life among others in the community.
Government
Government creates standards youth must strive for in school. It also sets economic
development standards and initiatives for community which influences youth and their families. The policies that impact application of influence on youth (such as how entities and people can interact with youth) are also created and controlled by government.
Media
Media has the power to sway opinion on issues, beliefs, and importance of life through television, newspaper, articles, social media, internet, and radio stations. This influence can either have a positive impact of the importance of individuals in the community or can stir them towards misguided perceptions.
Business
Important to expose youth to skills they can use in all areas, plus various jobs they may pursue.  Help them connect passions to purpose to careers.  Business is everywhere, in all forms, which allows a wide area of influence that can reach youth with various interests.  By connecting with local business owners, Facing Giants can facilitate connections that allow youth to learn about various job opportunities as well as internships to learn people skills and communication skills.  The youth can then see community needs that could lead to future reinvestment in the community which supports continued economic growth.
Education
At Facing Giants, we believe that knowledge is power. Ensuring are youth have the tools needed to academically excel comes first. We will work with our county educational system to provide quality tutoring services to ensure educational success. Our youth spend most of their time at school within the school year. This provides a significant opportunity to impact positively or negatively within this area, taking advantage of the good opportunity to bridge from the school to positive resources/outlets/contacts will set our youth and community up for success.
Arts & Entertainment
Provides a voice for information but also an outlet for creativity and self reflection.  We grow through art.  Art demonstrates cultural context of a community.  It also helps to develop life-long skills such as analytical thinking, clarity in written and spoken expression, collaboration, and creativity.
Religion
Religion is important to internal development of a person and external attributes as people live out their faith.  We believe it is important to be aware of this aspect to promote acceptance across diverse connections.